Federal Reserve watchers tend to pick apart every word Janet Yellen says these days. Comparisons are made between the exact wording of the previous Federal Open Market Committee (FOMC) statement to that of the present one to try and get an angle on what the Fed Chairwoman is going to do next. If she sets even the vaguest timeframe for raising interest rates or sets even the most nebulous employment target for tightening monetary policy or restarting quantitative easing, the markets react violently any which way.
But something is happening now that isn't written in or even hinted at in any of the FOMC statements since QE1 began in 2008. That is, excess reserves are starting to come down and flow into the economy faster than ever before.
Excess reserves are inert money stored entirely outside the banking system in excess of reserve requirements set by the Fed for demand deposits and time deposits held at financial institutions throughout the country. They sit there rather than circulate because banks would rather earn 25 basis points from the Fed on those excess reserves rather than risk loaning them out.
The faster these reserves flow out of excess and into the economy, the quicker the money supply expands. Excess reserves hit a peak on August 6 this year of $2.71 trillion, the most in all of history. They are now down to $2.48 trillion as of November 12. That is an equivalent of a $229 billion fall in excess reserves over 3 months, which translates to a $917B annual rate.
But what does that mean for the money supply? $917B coming out of excess reserves can in theory be ultimately loaned out at a factor of 10, not immediately so, but asymptotically given 10% reserve requirements. We can take a look at the last two epochs of declining excess reserves to see generally how a fall in these reserves affects the money supply over time.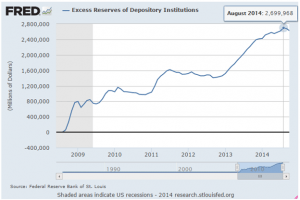 As you can see from the chart above (updated by the St. Louis Fed only through September), the last two times excess reserves trended downward was between February and November 2010, and from July 2011 to September 2012, the respective hiatus periods between QE1 and 2, and QE2 and 3. From February to November 2010, excess reserves dropped $226B counting from February 24 until November 17. In that same timeframe, M2 went up $264B. This indicates that while the money was soaked up by the first tier of the banking system in order to satisfy reserve requirements, not much of it was loaned out down the financial food chain, given that the money supply increased on nearly a 1:1 ratio with the drop in excess reserves at the time. The rate at which they were falling was also only $282 billion per year.
However, something very different happened the next time excess reserves dropped temporarily after QE2 ended. In the 15-month time period between July 13, 2011 and October 3, 2012, these reserves dropped $263B, only a $210 billion annual rate. Despite the lower rate of fall in that timeframe between QE2 and QE3, money supply as measured by M2 on those dates increased a whopping $938B (all numbers taken from Federal Reserve Money Stock Measures), a factor of increase of 3.56 over the decrease in excess reserves. What that means is at that point, the reserves were starting to be loaned out through the economy.
Why the sudden increase of M2 to excess reserves to a factor of nearly 3.6 from the excess reserves drop of 2010 which only led to an increase of M2 on a 1:1 ratio with the drop? Because it takes time for banks to loan out high-powered Fed money using the 10% fractional reserve ratio. The more time goes by, the faster the ratio of reserves to money supply approaches the 10:1 maximum set by the Fed's 10% fractional reserve requirement.
To give an idea of how long it takes for the 10:1 ratio to max out, the $226 billion drop in excess reserves that ended after QE1 by November 17, 2010, resulted in a 10:1 increase in M2 by February 10, 2014. The M2 money supply between those two periods increased by exactly $2.26 trillion, a tenfold increase over $226 billion that took just over three years to complete.
Now we come to what is happening now, during the most recent excess reserves drop since QE3 ended. First of all, it is notable that those reserves are dropping faster than ever before. As mentioned, from August 6, 2014 until the most recent data release of November 12, excess reserves have dropped $229 billion, or an annual rate of $917 billion, over 4x the rate from July 2011 to October 2012. Given that this drop only started three months ago, that $229 billion has yet to be loaned out extensively. So far, M2 has only increased by about the same since August.
However, if what we saw between July 2011 and October 2012 repeats itself, and at the current annual fall rate of $917B of excess reserves, M2 could increase by $3.3 trillion by next year. If we assume the same timeframe to reach the maximum 10:1 reserves to money supply ratio, we are talking about nearly a $10 trillion increase in the money supply by November 2018, or nearly double the current money supply in four years.
None of this takes into account possible increases in the rate of fall of excess reserves, but one thing is for sure. Excess reserves cannot stay in excess forever. They have to eventually enter the economy, and they are, with $2.48 trillion of them left to go. In a word, a torrent of dollars is making its way into the US banking system as we speak, regardless of the fact that QE3 is officially over.
With the dollar supply set to double in the next four years, the S&P (SPY) at all-time highs, the Nasdaq (QQQ) at 14-year highs and approaching all-time highs, the dollar index (UUP) approaching 10-year highs, and long term US Treasuries (TLT) within 8% of their highs, the place to be during this turbulent monetary storm will be in real assets at their lows rather than paper assets at their highs. The US oil fund (USO) is approaching its 2009 lows, gold (GLD) is down below $1200 an ounce, and commodities in general (DBC) are approaching their 2009 lows.
Commodities and other real assets cannot stay down for long once the money supply really starts to accelerate. If buy-low-sell-high is what investors must try to emulate, the time to buy commodities is now.