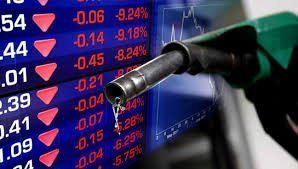 Shares across Asia turned higher on Friday, lifted by surging oil prices and hopes that China could move quickly with a stimulus package. China's economic data for last month showed tepid growth and missed the expectations of economists.
Oil in play
Oil prices rose more than 4% overnight after International Energy Agency reported that long-term oversupply risks were diminishing. The price of the commodity also appeared to be rising on hopes that OPEC members will agree to freeze production when they meet next month.
China's economic data
China reported that its fixed asset investment only grew 8.1% between January and July, slower than 8.8% growth that analysts were expecting. The country's retail sales in July expanded 10.2%, below 10.6% expansion in the previous month and short of 10.5% expansion that economists were looking for in the month.
Industrial output growth of 6% in July was also slower than 6.2% in the prior month and 6.1% that analysts forecast for the month.
Experts have weighed in on China's tepid economic data and they seem to say that Beijing would have to act quickly to spur growth in the country.
"[The fixed asset investment data] suggests that we could see Beijing being pressed harder to roll out fiscal stimulus […]. The prospects of fiscal pump-priming might have buoyed the equity traders," said Bernard Aw of IG in Singapore.
How major Asian indices performed
Japan's Nikkei 225 (INDEXNIKKEI:NI225) gained 1.10% and hit a new 1-month high. Shares in Tokyo were led higher by rising stocks in Shipbuilding, Fishery and Power sectors.
A weaker yen also lifted foreign interest in Japanese stocks. USDJPY rose 0.07% and EURJPY jumped 0.11%.
In Taiwan, the Taiwan Weighted rose 0.20%, supported by rising stocks in the country's Machinery, Chemicals and Oil, Gas & Electricity sectors. In South Korea, the KOSPI edged up 0.08%.
What about China?
China's larger Shanghai Composite turned up 1.60% and the smaller HANG SENG INDEX (INDEXHANGSENG:HSI) rose 0.9% to high an 8-month high.
And Australia
Shares in Australia closed higher with the S&P/ASX 200 gaining 0.27%. Gains in Australian were supported by rising stocks in the country's Metal & Mining, Resources and Energy sectors.
A weaker Aussie also seemed to drive foreign interest in Australian stocks, as AUDUSD fell 0.10%.
An ad to help with our costs