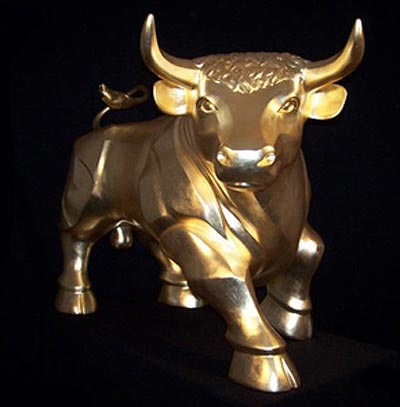 Did we just see the final bottom in gold on December 4, 2015? The next $45 for gold may give us the final answer as long term resistance is at $1,225. We are currently just above $1,180. In that sense the next few weeks will be crucial for calling an end to one of the worst bear markets for gold stocks in modern times. A break above $1,200 would give gold its first higher high since topping way back in September 2011.
Gold stocks for their part have already made higher highs for the first time in four years. The closely followed NYSE ARCA Gold Bugs Index (INDEXNYSEGIS:HUI) looks set to break through the 150 level for the first time since July 2015 when it collapsed through that support zone. Gold itself (NYSEARCA:GLD) is up nearly $25 this morning, breaking through the $1,180 zone, only about $12 away from the next key resistance level at $1,192.
The Market Vectors Gold Miners ETF (NYSEARCA:GDX) has also broken through its October 2015 highs at $17 a share with the next significant resistance zone at $17.85 from back in July. The ETF is already up 40% in three weeks, though there is a long way to go before it meaningfully retraces 4 years of catastrophic declines. In other words, this could still be a head fake, though it would be a very vicious one indeed for gold bugs.
Gold seems to be feeding off of weakness in stocks lately. While the metal has been climbing since bottoming in early December at $1,045, the SPDR S&P 500 ETF (NYSEARCA:SPY) has declined almost 12% over the same timeframe, with futures heavily down this morning once again. Gold is also rising today independently of a stronger dollar. The dollar index (NYSEARCA:UUP), which measures the reserve currency against a basket of other major global currencies, is up 0.33% this morning, a moderate up move for the greenback, and still gold is strongly up on the Comex.
If gold sustains its move higher throughout the day, this would be its 7th straight day of gains, capping a 6.3% move up in one week. If the bottom is really in this time, the ensuing bull market is set to be quite strong, as the current bear market has erased 80% of the value of the larger established gold miners since 2011 and nearly 90% of the junior exploration companies.
A new bull market would mean, for example, that the Market Vectors Junior Gold Miners ETF (NYSEARCA:GDXJ) has at least 680% to go before topping again. The next few weeks should help determine if this is what is indeed in store for one of the market's most devastated sectors in the past four years.
Disclosure: The author was long gold stocks and SPY at the time of writing. 
An ad to help with our costs