Weekly Biotech Report Part II, Oramed Pharmaceuticals, Inc. (NASDAQ:ORMP)
In the forward looking element of last week's Market Exclusive biotechnology weekly report, we discussed two companies that were set to report key data during the then week ahead. The two companies were Marinus Pharmaceuticals Inc (NASDAQ:MRNS), with its fragile X phase II proof of concept, and Oramed Pharmaceuticals, Inc. (NASDAQ:ORMP), which was set to report data from its phase IIb clinical trial in its lead candidate, ORMD-0801.
Marinus delayed the data by another week, so in order to see how that one plays out, we'll have to wait a few more days. Oramed released as planned, however, and here's a look at what the data showed, and what it means going forward.
Oramed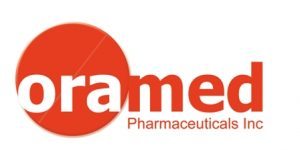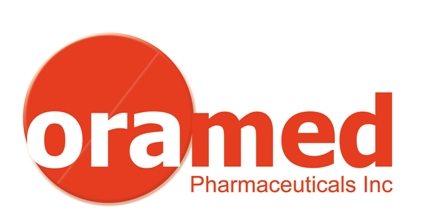 On May 18, Oramed reported top-line results from its phase IIb trial in type 2 diabetes. The trial was set up to investigate the safety and efficacy of ORMD-0801.
The Science
Since we covered the science that underpins this drug in last week's report, we won't go into too much detail in this edition. For those looking for an in depth discussion of ORMD-0801's mechanism of action, take a look at the previous explanation here. As a brief primer, however, the drug is a special formulation of insulin designed for oral administration. Current standard of care insulin for type 2 diabetes patients is subcutaneous insulin injection, usually self administered, and this can lead to a failed regimen or pain at injection site, among other things – not to mention the general inconvenience of having to store, transport and administer insulin as part of a daily routine.
Oramed's version has a protective compound that stops it from being broken down in the gastrointestinal tract, and in doing so, theoretically helps it overcome the current issues associated with oral administration insulin.
The Data
The primary endpoint of the trial was a statistically significant reduction in night time glucose, as measured by means of a weighted mean. The data showed that through a one pill a day administration regimen across 28 days, ORMD-0801 reduced night time glucose by 6.47%. For the purposes of the study, this was considered statistically significant. Safety came out as expected with no serious adverse events across the population and no discontinuations.
For a quick reference point, and to compare these results to current treatment recommendations, standard advice is to reduce glucose levels by about 10% using insulin injections in diabetes patients when post meal blood sugar is too high. At night time, this reduces by a few percentage points. 6.7% nighttime resting reduction therefore looks basically in line with current SOC when taken in consideration with its far simplified dosing regimen.
The Market
Again, this is something we looked at in detail in the previous analysis. To recap, type II diabetes, especially the regular insulin administration element of the space, is one of the holy grails of healthcare. A company that develops an effective and safe alternative to injected insulin has instant access to a multibillion dollar global market of patients. A market that, assuming an effective marketing strategy, the company should have little difficulty grabbing a large portion of. To put a figure on the market, diabetes type 2 therapy, which is primarily comprised of insulin delivery, is expected to generate $39 billion annual by 2019.
Reaction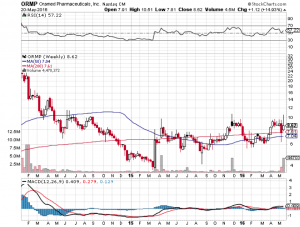 At data release, markets initially sold off a little bit, with Oramed closing out the session on May 19 at $8.25 a share. A couple of days prior to the release, however, and likely rooted in the announcing of its intentions to present at the Oppenheimer Annual Israeli Conference, the company had gained nearly 40%. As such, the small selloff seen on data release was likely a sell-the-fact type situation. A day subsequent to the release the company gained nearly 5%, so it looks as though sentiment is riding in favor of Oramed pushing to phase III, and picking up some milestone payments related to an agreement signed last year with Hefei Tianhui Incubator of Technologies Co. Ltd., concerning Chinese rights to the drug.
Trading Strategy and Valuation
With Oramed, the upside as induced by the data release as things stand is unlikely to continue much higher – primarily as markets look to have already priced in the drug's efficacy. Having said this, Oramed is set to release a more detailed analysis of the phase IIb near term, and this could do two things. First, it could undermine the positive intonations of the current report, and inject some medium term weakness into the company's market capitalization. This presents an opportunity to get in at a discount ahead of a possible upside catalyst that comes as a result of the initiation of a phase III.
Management has stated that a phase III should kick between late 2016 and early 2017, so whatever the implications of the expanded dataset on the efficacy of the drug, it's pretty much confirmed we are going to see a pivotal trial. A second situation is one in which the in-depth release supports the efficacy readout, and this will boost Oramed's near term value. In this scenario, it's likely more advantageous to pick up an exposure ahead of its release, to draw benefit from both catalysts.
As far as valuation is concerned, the market currently gives the company a market cap of $113 million. Based on the latest efficacy data and the upcoming catalysts (namely, milestones from China and the initiation of a phase III), and not to mention the potential market the company could be targeting on approval, this seems a little low. If Oramed can emulate the phase IIb results in a pivotal over the next 18 months, don't expect its market capitalization to be any lower than a 5-10X multiple of its current figure.
Phase III's however, are often quite different than Phase II's, so there is still plenty of time to get in here, and plenty of risk in the event that the Phase III results are not as encouraging as the Phase II.
BY: RAFI FARBER AND SAMUEL RAE
An ad to help with our costs