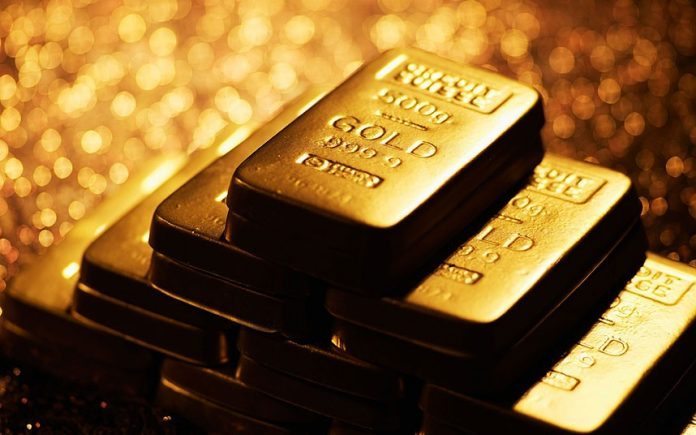 Gold prices are falling in European trading after earlier easing in Asian trading. The slide in gold prices has been linked to cautious trading ahead of a speech by the Federal Reserve Chair, Janet Yellen, on Friday.
The meeting of central bankers at which Yellen will deliver her speech has sometimes been used by Fed chiefs to issue important policy comments.
Price of gold future for December delivery pulled back 0.06% to $1,328.95 a troy ounce during Asian hours on Thursday. The yellow metal was sliding nearly 0.09% in midmorning trading in Europe after earlier hitting a session low of $1,326.55.
A day earlier, gold retreated 1.2% to $1,329.70, rattled by traders dialing down their bullish bet on safe-havens ahead of the highly anticipated Yellen speech.
Focus on rates
Traders are not sure what to expect from Yellen's speech on Friday, but they are trying to adjust their bets on gold just in case the Fed chair delivers a surprise in her speech. At the end of the Fed's last policy meeting, the central bank noted that near-term pressure on the U.S. economic had diminished, but added that there was a need to keep a close watch on new economic data being reported to see which way it should move with rates review.
However, minutes from the same meeting that were released recently showed that there is no consensus among Fed policymakers on when the monetary regulator should increase rates, safe for the fact that there is need for more economic data to be sampled before a rate review action can be taken.
Gold prices have risen close to 25% so far in 2016 amid economic uncertainties.
Dollar steady ahead of Yellen speech
In the currency market, the greenback appeared steady against a basket of foreign rivals. The U.S. dollar index eased 0.16% in midmorning in Europe. NZDUSD was up 0.14%, USDJPY was down 0.07% and EURUSD was up 0.08%.
Besides Yellen's speech, investors will also be keeping a close eye on durable goods orders and jobless claims data due later Thursday.
An ad to help with our costs