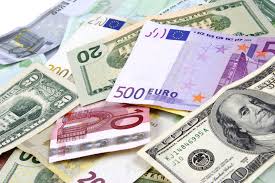 A the U.S. Dollar (CURRENCY:USD) journeyed higher against safe-haven Yen, the British pound sterling took center stage as investors became more positive about Bremain. Fresh opinion polls suggesting the 'Remain' camp was gaining strength over Leave which helped the pound advance to a six-month high against the greenback.
GBP/USD (GBPUSD) surged 0.46% to 1.4770 during late Asian trade whereas EUR/USD (EURUSD) traded up 0.33% to 1.1333. The greenback maintained a lead against yen with USD/JPY (USDJPY) advancing by 0.09% to 104.49. Shin Kadota of forex strategies at Barclays, said that market movements will be difficult to gauge until the UK vote. He added that pound movement will continue to remain key for markets. The UK referendum will take place today between 0600-2100 GMT with final results expected on Friday.
European Stocks and oil rise
Asian markets finished mixed with traders indecisive about what happens after the Brexit vote. Chinese mainland markets closed down, with the Shanghai Composite plunging 13.59 points to 2,891.96
Japan's Nikkei 225 (INDEXNIKKEI:NI225) managed nevertheless to register robust gains, advancing 1.07% to 16,238.35, after the yen extended losses. European equities opened broadly higher, however, no big moves were reported during the early session. Referendum voting has already begun in EU while opinion polls have placed both remain and leave camp neck-and-neck. FTSE 100 (INDEXFTSE:UKX) rose 0.72% to 6,306.28 and DAX (INDEXDB:DAX) begun trading 0.96% higher at 10,167.50.
Oil reversed losses later in the day, but West Texas Intermediate Crude Oil hovered below $50 at $49.34. Brent Crude advanced 0.52% to $50.14 a barrel. According to analysts, the gains in the commodity will be capped ahead of the Brexit result. Even the less-than-expected fall in U.S. stock reserves was weighed over by the referendum. The Energy Information Agency reported that U.S. crude inventories declined by only 917,000 barrels during the previous week, hurting projections of a fall by 5.3 million barrels.
An ad to help with our costs