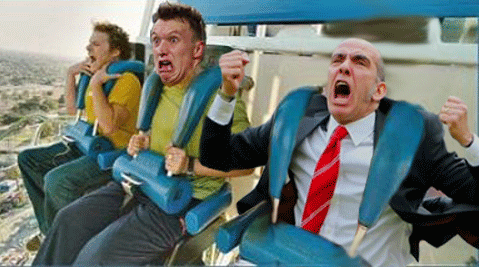 It's days like this when market wrap ups sound like something out of a satirical newspaper. Headlines over the weekend were focused on the – apparently incredible – fact that the Dow Jones (NYSEARCA:DIA) had lost 1000 points in just one week. How about 1089 points in a single day? That's what happened within the first 5 minutes of trading today as the Dow plummeted as low as 15,370.
And then it appeared as if the Godzilla of all buyers descended on Wall Street and rocketed the Dow back up over 1100 points, all the way to 16,459 by midday. The trading range for this one day was over 7%. That is equivalent to the trading range of the Dow since December 2014.
October 2014 support at 15,855 was broken at the open, though regained by the end of the day. It remains to be seen if that support will be held or if we are headed even lower. It may largely depend on action in China tonight.
As volatile as a 7% trading range sounds for the Dow, the Nasdaq had an even crazier day with a trading range of over 9%. It was so volatile that the PowerShares QQQ Trust which tracks the Nasdaq couldn't even track it today at the open, as it had a trading range of an unheard of 21% from lows to highs today.
Leaders like Netflix (NASDAQ:NFLX) were the epitome of volatility today as shares dropped as much as 18% in five minutes, climbed to as much as a 5.4% gain, only to close down 6.8%.
The Volatility Index (VIX) spiked so high today that the Chicago Board of Options couldn't even open it up for trading for nearly half an hour because the price of options on which the index is based were too volatile to be calculated. When it finally opened for trading, the VIX spiked to as high as 53.3, racing down to 30 by midday, and then spiking back up to close at 40.74. The VVIX, which measures the volatility of VIX options, the so-called volatility of volatility itself, spiked to all-time record highs.
And again, it was the last few minutes of trading that really exemplified the whole day. By 3:34PM EST, 26 minutes before the close, the S&P 500 (NYSEARCA:SPY) was sitting at 1880, but within only 12 minutes was back up to 1924.5, a 2.4% move in the space of only 720 dizzying seconds.
In the final 14 minutes of trading however, the index fell back below the psychologically important 1900 mark to close the day at 1894. After hours trading has the S&P down about another full percent.
The final 14 minute plunge suggests that we will open even lower tomorrow, and that the selling and volatility is not over.
An ad to help with our costs