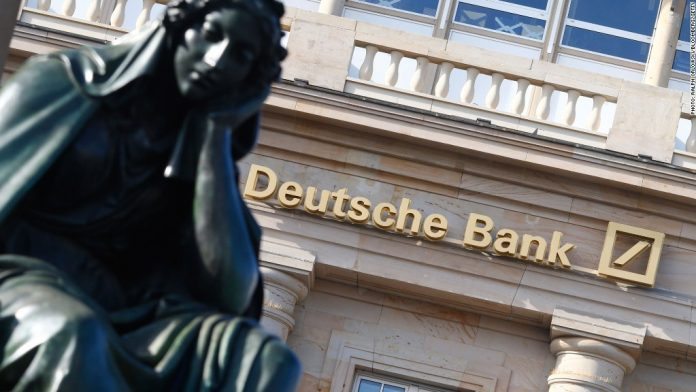 Deutsche Bank Loses Another Billion Or So "According to Plan"
Deutsche Bank (NYSE:DB) lost another $924 million the past quarter, worse than expected. Revenue is also down by €900 million, with falls in every segment. In its defense, CFO James von Moltke said that the loss is "entirely in line with our plans". How good those plans are is the question investors are asking. The bank dropped its workforce by about 5% from a year ago, but still employs close to 90,000 people. There is some speculation circulating that the American branch of the German lender may be at the epicenter of the overnight liquidity crunch in the repo market that is being tended to by the Federal Reserve in the form of tens to hundreds of billions of dollars a day in overnight and term repos. Other domestic US banks may be loathe to lend the embattled bank any more liquidity as its financial position remains unstable, though there is no direct evidence available that Deutsche is actually responsible for the dislocation in repo markets. At least not yet. Deutsche shares are down 6% in premarket trading.
SEE: Cannabis Firm Choom Names New CEO
General Electric Shows Electric Signs of Life, Generally Speaking
General Electric (NYSE:GE) is showing signs of life, posting an impressive earnings beat by 4 cents a share. The conglomerate posted earnings of 15 cents a share while consensus was at 11. The beat was even more impressive as the company is facing headwinds from 737 MAX production being suspended by Boeing for months. General Electric is big supplier of engines for the plane. GE debt is now "only" $90 billion, which isn't half bad, compared to the US government at least. It's still more than its market cap, now back up to $80 billion.
Prepare for Higher Prices on Increased Shipping Costs
IMO 2020, the new fuel regulations set by the International Maritime Organization, is now only two months away. Starting in January, international shipping companies will no longer be allowed to use high sulfur fuel, which will put added pressure on low sulfur oil demand by about 5%. The cost of shipping is likely to rise significantly, and with it the costs of the goods that are shipped across oceans. A.P. Moller Marsk (OTCMKTS:AMKBY) could be hit if it is unable to pass down increased costs, estimated to be about $2 billion. The total price tag for the industry is expected to be about $10 billion a year. Patrik Berglund, CEO of Xeneta, which crunches data on the shipping industry, is concerned that costs may not be able to be passed down. "My biggest concern is cost increases won't be passed on. In a worst-case scenario, it could lead to another Hanjin situation." Hanjin was the world's 7th largest shipping company until it went bankrupt.
FOMC Rate Cut Expected Today
The Federal Open Market Committee, the group of people that bring money into existence and pump it into the economy, are set to announce another rate cut today, at least by federal funds futures traders expectations, which are 97% sure of a 25 basis point cut, to be announced at 2pm EST. A cut would necessitate even higher daily repo operations than are occurring now, since in order to push overnight rates further down, more money needs to be pumped in to the overnight markets. This is likely to push Federal Reserve balance sheet expansion even higher, and could end up hurting the dollar index (NYSEARCA:UUP), which has been trending lower since the end of September. As a rate cut is so widely expected, the language of the press release could be what turns markets today. Watch gold and silver (NYSEARCA:SLV) today to see how precious metals traders interpret the Fed's policy trajectory going forward.
Fiat, Peugeot, In Talks to Make Feugeat
Fiat Chrysler (NYSE:FCAU) is in talks with French auto maker Peugeot (OTCMKTS:PUGOY) to combine the two companies. The talks come 5 months after Fiat Chrysler abandoned plans to to united with another French car company, Renault (OTCMKTS:RNLSY). Pressures to reduce emissions and introduce self-driving technology are pushing car companies to look for bigger capital pools in order to make the necessary investments to pull off the paradigm shifts in the automobile industry that consumers are expecting are around the corner.  Fiat was up 7.56% yesterday on the news, and Peugeot was up 5.55%, indicating that shareholders of both companies were excited about the prospects for a deal.
An ad to help with our costs