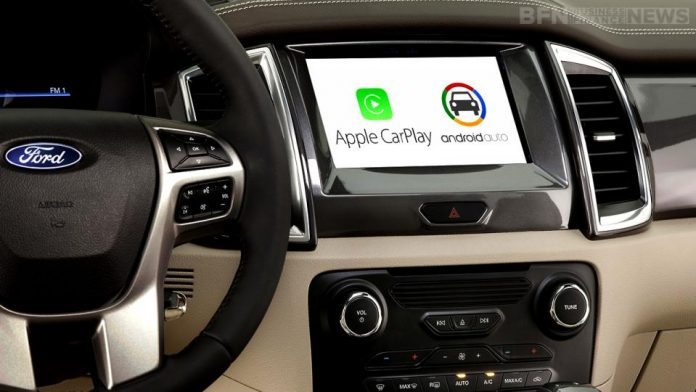 Ford Motor Company (NYSE:F) has announced that it will feature CarPlay from Apple Inc. (NASDAQ:AAPL) in all the vehicles that it will release in 2017.
In addition to featuring CarPlay, the automobile manufacturing company has also revealed that it will also bring on board Alphabet Inc (NASDAQ:GOOGL) Google Android Auto. The two services from Google and Apple can be synced to the vehicles through Sync 3. Once the latter is activated on a vehicle, it allows users to connect their Android or iOS devices through USB which automatically allows the handset interface to appear on the vehicle's display. Connecting the handsets in this manner allows the driver to interact with some of the features such as Google Play Music, Google Maps, Siri Voice control among others without diverting their attention from the road.
Despite the upgrades, the automaker will still continue to feature its mainstream communications and entertainment software. Having the ability to control the features by voice through Sync 3 is however expected to be more appealing to customers. It will also be a safer option for drivers since they do not have to keep their eyes off the road.
Jeffrey Hannah, SBD's director for North America stated that Ford has decided to take a different approach this time. The firm would normally be expected to introduce the new features as a premium package. However, the announcement revealed that Sync 3 will be a standard feature in all the models produced in 2017.
Sync three made its debut in May 2015 and it was designed to offer faster and smoother performance compared to its predecessor. Ford believes that making it standard across all models will give its vehicles a bigger competitive advantage over the competition. Some of the 2017 models such as the Mustang, Fusion and Escape have already been launched. The rest of the models will be released later and they will feature Sync 3. The firm also revealed plans to start offering over-the-air updates to improve some of the features.
An ad to help with our costs