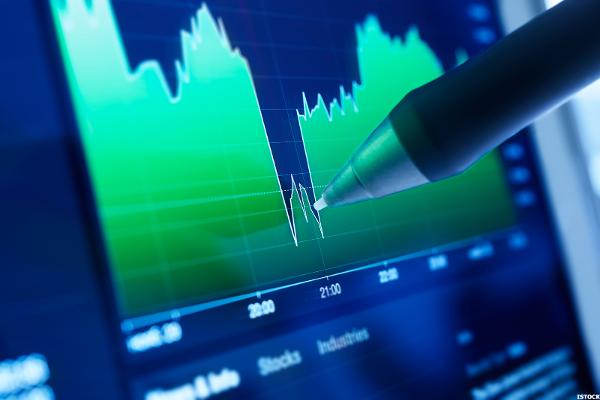 Once again we've had a busy start to the week in biotech. A host of news has hit markets, and translated to some dramatic volatility across companies in the space, large and small. Here's a look at some of Tuesday's movers and shakers in biotech, and the drivers behind their action.
CytomX Therapeutics, Inc. (NASDAQ:CTMX)
First up, a new kid on the block – CytomX. This biotech company gained 11.4% during yesterday's session, having closed an initial public offering this time a couple of weeks ago. The IPO missed expectations, having been priced at $12, and CytomX participants haven't had much to cheer about since, with their holdings currently trading at just shy of $11 a share. However, yesterdays rally came on the back of an announcement that the company will present promising preclinical data at the upcoming International Conference on Molecular Targets and Cancer Therapeutics in Boston, early November.  Of we get a continuation of the action seen yesterday during today's session, expect a breakout through the IPO price, with a near term upside target of $15 a share if the bulls hold out. For those who missed the IPO, CytomX is an oncology company with a pipeline focused on what are called "Probodies" – essentially antibodies that are designed to target tumor tissue exclusively, unlike some alternative antibody oncology therapies that are not selective in their targeting. The company is young, risky and likely not one to consider without careful due diligence – but the upcoming conference could draw investor attention, so its one to keep an eye on going forward.
Next up, Ardelyx. This is one we have covered a number of times in the past, but if you've not yet read our coverage, Ardelyx is a biotech company that develops gastrointestinal tract therapies, and treatments for blood diseases, with its two lead candidates in each of these respective areas being an IBS therapy and a hyperkalemia treatment. This one has a far more advanced pipeline than CytomX, with a phase III for its flagship IBS therapy set to kick off this quarter, and a phase IIa well underway in its hyperkalemia indication. Premarket on Monday, the company announced it was appointing William Bertrand Jr to its board of directors – a long standing expert in the compliance and legal arena in biotech, with companies such as MedImmune (subsidiary of AstraZeneca PLC (NYSE:AZN)) and Valeant Pharmaceuticals International, Inc. (NYSE:VRX). Markets have viewed the HR addition as a reinforcing of the strength of Ardelyx's pipeline, and the company gained a little over 5% during Monday's session, and is up nearly 3% premarket on Tuesday. Compounding the action, and likely to boost the gains already seen from the HR announcement, is the announcing of intentions to present clinical data at an upcoming American College of Gastroenterology conference in Hawaii. The abstract from the conference suggests we are set to see a demonstrated sustained response in a double blind phase II for tenapanor, its lead IBS candidate. If the results support a phase III initiation, expect the biotech conference to serve as a medium term upside catalyst.
BioDelivery Sciences International, Inc. (NASDAQ:BDSI)
This time last year, BioDelivery Sciences traded at just shy of $18 a share. Fast forward 12 months, and the company hit annual lows last week at 5.28 – a more than 70% decline across the period. The declines have come against a wider backdrop of biotech strength, primarily as the result of a rocky road to approval for one of its lead candidates. The candidate in question is Belbuca – a buprenorphine film with a chronic pain indication. Buprenorphine is a well established opioid treatment for this indication, and BioDelivery have combined it with a novel delivery system (the aforementioned film) to bring this new treatment to market. On Monday, the FDA announced it had approved Belbuca for its chronic pain indication, and BioDelivery gained close to 10% on the announcement. Premarket on Tuesday, the company is up another 1.5%, suggesting the bullish momentum is set to continue for today's session. The company has a market capitalization of a little over $300 million, a fraction of what was once a billion-dollar biotech, but markets believe this approval could be the catalyst behind a longer term turnaround. Look for a continuation of the current strength throughout the next couple of quarters, as the company moves the therapy into commercialization, and confirmation of this biotech turnaround.
An ad to help with our costs