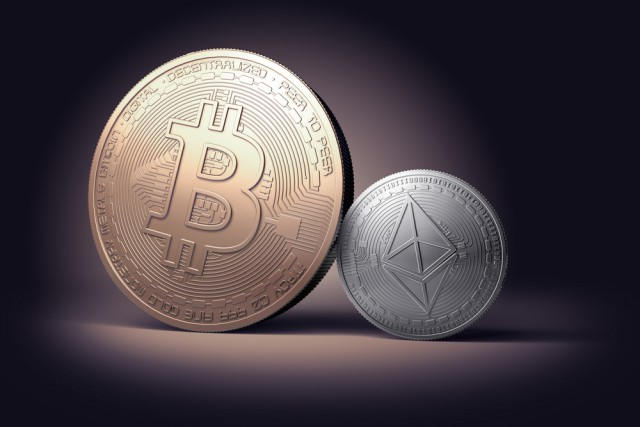 The cryptocurrency space appears to be stabilizing since early February when the price of bitcoin (BTC-USD) completed a massive 65% correction from a parabolic top at around $19,500 per coin. Incidentally, bitcoin's bottom on February 6th coincided with the record volatility spike in mainstream global equity markets, indicating that the two spaces may have more correlation and interlinks than orthodox market analysts would like to believe.
India's Largest Crypto Exchange Bitxoxo Announces TGE
Why Is Bahrain Suddenly The Center Of Attention For Blockchain Events
With the fiat price of bitcoin, ethereum (ETH-USD) and ripple (XRP-USD) contracting yesterday and closing in on support, crypto markets may in the coming days establish a stabilizing trading-range that could help lessen some of the systemic volatility that has been keeping many mainstream investors and institutions out of the crypto space. At current prices, bitcoin is still 31% above support at $6,200, ethereum is 83% above it, and ripple has a 42% buffer zone. While we have not quite yet established a stable trading range, we are getting closer. Once we do, we could start seeing more mainstream acceptance for the sector and higher liquidity, which would add to the stabilization affect.
Meanwhile, initial coin offerings (ICO) continue to thrive despite the fall from highs, indicating that enthusiasm for crypto-finance has not waned despite price swings and regulatory threats. While ICOs do have their dangers, we believe that in order to fully understand the potential of blockchain technology, those interested in the space should be acquainted with promising tokens being offered, not necessarily to invest, but in order to broaden investors' views and understanding about the applications for the infrastructure that underpins the cryptocurrency space.
Here are three ICOs that investors may want to take a look at with the aim of understanding how blockchain may be applied in the very near future.
Valorem
Today's ultra-centralized fiat banking system relies on unelected representatives running central banks to set interest rates not in accordance with the supply and demand for money, as the free market would set rates, but in accordance with central bankers' hunches about what interest rates should be, based on data that they collect and extrapolate from. The dangers of today's central-bank-controlled system of interest rates and loans are obvious. Central banks could simply be wrong about what they believe the price of money should be, thereby aggravating the business cycle, causing booms and busts.
Valorem is an ICO that plans to use the valorem token, at a rate of 1 ETH to 1000 VLR, to facilitate a decentralized banking system that uses an Airbnb-type feedback and trust mechanism to secure microloans, student loans, and car loans to start. Decisions regarding interest rates will be determined by individual lenders in accordance with the level of trust the borrower has on the system and how much funds are available at any given time.
This ICO is 73% funded with 41 days left until closing. Investors by May 28th can benefit from a 10% bonus.
Ethereum Travel Token
The myriad of institutions that a traveler's financial information passes though on its way to booking an actual flight includes the travel website, airlines, payment merchants, governments, and border control agencies. At each stage there is risk of data leaks and hidden fees are taken at each stage. Since there is no unified ledger for each of these layers in the travel industry, redundancy is rampant and efficiency is diminished. An added disadvantage is that disparate systems of travel rewards are often incompatible, making it impossible in many cases to maximize travel discounts.
The Ethereum Travel Token (ETHTT) aims to simultaneously unify and decentralize the process of travel booking by bringing all aspects of travel including airlines, hotels and car rentals under one roof using one token. This both maximizes efficiency and eliminates data transfer redundancies that creates susceptibility to hacking. Rewards become streamlined and intercovertible across airlines and hospitality industries.
This ICO is not live yet, but the pre ICO begins in 18 days on June 5th, with crowdfunding beginning on the 5th of July at an exchange rate of 10,000 ETHTT to 1 ETH.
Smoke Network
This one is for the cannabis crowd. The SMOKE Network aims to protect cannabis content producers from government censorship. Participants upload content, and based on quality decided by participant feedback, are rewarded in tokens by the network which can be exchanged for cryptocurrency. The basic idea here is to create a secure community separated from regulatory authorities where users can maintain anonymity while creating cannabis-related content without the risk of being called out by family members or regulators. The network becomes owned by the community of users with SMOKE functioning as the currency that unites them on the platform.
This ICO is 80% funded and will continue until May 25th. The exchange rate is 1 SMOKE to 0.1USD based on the price of BTC at the time of exchange.
Disclaimer: Users invest in initial coin offerings at their own risk and should perform their own due diligence before investing any funds in these ventures. This article should not construed as advice to invest in any ICO, and should be viewed as strictly informational. Many ICO participators have lost their entire investment. Please read the SEC's website regarding ICO's prior to investing. https://www.sec.gov/ICO – In order to stress the dangers of ICO's please see the SEC's fake ICO here https://www.investor.gov/howeycoins
An ad to help with our costs