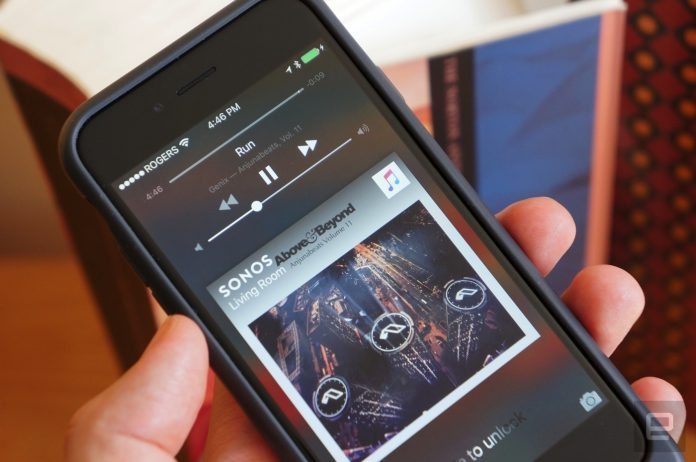 Sonos has finally upgraded its Apple Inc. (NASDAQ:AAPL) iOS app to support controls for its speakers even when iOS handsets are locked.
The upgrade follows complaints by owners of Sonos speakers who use their iPhones as their controllers. Prior to the new changes, the Sonos iOS app did not support lock screen controls meaning users had to launch the app so that they can play or pause a song. Most people who purchase the speakers forego the pricey standalone remote controllers for the speakers because they can use their iPhones to control the device. However, the iOS app failed to offer convenience even when the device is locked. The new update changes all that.
The newly updated Sonos app now allows users to adjust volume or select different tracks without having to unlock the device. The app is now more convenient thanks to the new update. For example, if the user has a song playing and locks the phone, the lock screen will display the name of the track that is playing and the album art. It will also feature a volume slider for volume adjustment, a play/pause button, and buttons for forwarding or playing the previous track.
The lock screen feature does not get the same zone controls offered by the app. Users will still have to launch the app to select music from different zones. The same will apply when the user stops playback from the lock screen while music is playing from one zone but playback is active in other zones, the other zones will not have lock screen controls.
The new changes also offer support for the Apple's 3D Touch feature known as Peek and Pop. The latter allows the user to control playback. It also allows the users to initiate the Sonos search from the Sonos icon which appears on the home screen. Sonos also claims that it has improved the streaming quality on Napster and Rhapsody. The new version of the app is available in the App Store and the Peek, and Pop feature is available to those using the iPhone 6S and 6S Plus.
An ad to help with our costs