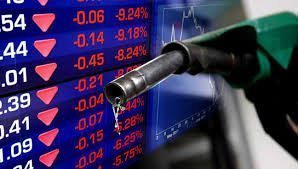 World stocks were mixed Thursday amid concerns of renewed weakness in oil. Shares in Asia were largely lower after an overnight energy report out of the U.S. showed oil inventories rose last week. Economists had predicted that the U.S. oil stockpile would decline in the week.
On top of the downbeat U.S. energy report, Saudi Arabia complicated the picture for oil traders as the country expanded its output. Until the U.S. reported that its oil stockpile increased last week, oil prices had seemed to steady after rumors emerged that OPEC members were planning to meet next month at which point a production freeze was expected to be discussed.
When OPEC members met in June, they declined to take action that would accelerate recovery of crude oil prices, preferring to let the market correct by itself. But prolonged recovery in oil prices has heightened concern even among the OPEC members.
The price of U.S. oil fell 2.5% to $41.71 a barrel on Wednesday after the report that showed a surprise spike in oil inventory.
On Saudi Arabia's move to raise production levels at a time when there are already fears of a global glut, Tim Evans of Citi Futures said, "[It] suggests a pragmatic effort to maintain export revenues to pay the bills and a determination to maintain market share."
Asian stocks response
In Japan, the Nikkei 225 (INDEXNIKKEI:NI225) eased 0.18%, while Taiwan's Taiwan Weighted retreated 0.75%. Stocks in Taiwan were led lower by falling shares in the country's Hotel and Rubber sectors.
In South Korea, the KOSPI managed to rise 0.20% as it HANG SENG INDEX (INDEXHANGSENG:HSI) in Hong Kong that rose 0.38%. But China's larger Shanghai Composite lost 0.53%, backing the trend in the broader Asian region.
Shares in Australia fell, with the S&P/ASX 200 declining 0.71%. Australian shares were led down by falling stocks in the country's Financials, Gold and Telecoms Services sectors.
European stocks were steady to higher Thursday morning, with the Euro Stoxx 50 seen rising 0.23%, Germany's DAX 30 gaining 0.36% and France's CAC 40 jumping 0.17%.
Singapore downgrades economic growth forecast
Besides the effects of U.S. energy report and Saudi Arabia's decision to scale up production, world stocks were also rattled by Singapore's move to lower its economic growth outlook. The country now forecast its economy to grow in the range of 1% to 2%, yet it previously guided a growth in the range of 1% to 3%.
Singapore cited the impact of Brexit in cutting its economic growth outlook.
An ad to help with our costs