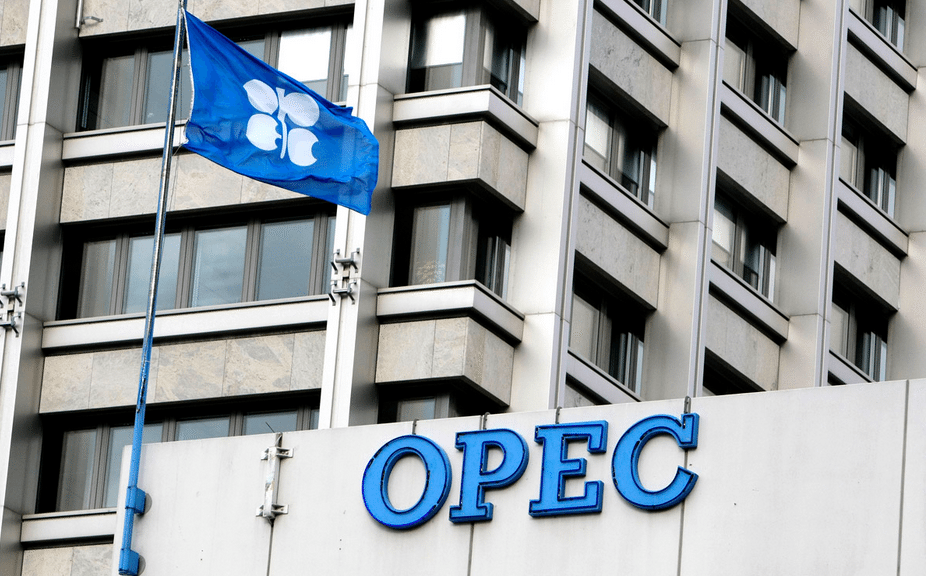 Further OPEC Production Cuts On the Way?
OPEC is meeting in Vienna today and on the docket is more production cuts. There is higher uncertainty than usual regarding whether OPEC members are all on the same page regarding production cuts, or whether any of them will break away from Saudi Arabia's de facto leadership of the group. Production cuts already have put production at 1.2 million barrels per day through June of next year. Further cuts look like they depend on Russia's acquiescence. Further cuts being pondered amount to about 400,000 barrels per day. "I think this actually is something which is very much a live option. We are actually hearing that this was not a proposal that the Iraqi's made but that it was a proposal made by the Saudi government," said Helima Croft, RBC strategist to CNBC. She believes that because the initiative for further cuts is coming from Saudi Arabia, that it should be taken seriously. (NYSEARCA:USO)
SEE: Market Morning: Trade Deal Scuttled, French Cheese Wars, Gronk Picks CBD over NFL
General Motors, LG, to Team Up On EV Batteries
General Motors (NYSE:GM) and LG (NYSE:LPL) appear to be on the way to a 50:50 joint venture in Ohio to manufacture electric car batteries. The two companies are preparing to pour $2 billion into the facility, though officially GM is being coy about the discussions. "Talks occur on a regular basis in the auto industry between a variety of partners on different topics, but as a matter of policy we don't discuss who, where or when those discussions might occur," a GM spokeswoman said. LG also declined to comment. Workers will most likely be represented by the United Auto Workers union, making the battery factory the only unionized battery production facility in the United States. Jimmy Hoffa would be proud.
German Economy Continues to Sputter
The economic engine of Europe is sputtering. Germany saw falling manufacturing orders in October. This aligns with the ongoing fall in global automobile sales growth as the biggest segment of the German exports by far is cars. Manufacturing orders declined 0.4% in October according to Destatis. Economists polled by The Wall Street Journal had forecast a 0.2% increase for the month. Also slightly disturbing out of Germany is that some retail banks are now charging even small customers for deposits in accordance with the record negative interest rate level in the country. This should help drain deposits out of the banking system and into people's mattresses, which could precipitate a credit crisis given the ongoing systemic weakness in the German banking sector already.
Regulators Still Confused As to Why Money Markets Rates Exploded In September
Regulators, still with their panties in a bunch over why overnight money market rates in the repo market spiked up to 10% on September 17th, are now setting out to determine exactly why this happened. JPMorgan Chase (NYSE:JPM) has already stated that it had the liquidity available to stem the bleeding but was prevented from doing so by the same regulators that are now investigating why this happened. Regulations post 2008 require banks to hold large amounts of highly liquid assets, regulations designed to prevent a liquidity crisis, but which ended up causing one instead, as many regulations often end up causing the very thing they are trying to prevent. Sort of like a bootstrap paradox in a time travel movie. By requiring banks to hold large amounts of liquidity, that effectively prevents them from using this liquidity as liquidity, basically nullifying its status as liquidity since it is no longer liquid. This might also be akin to the old Zen financial parable, What is the sound of one trader trading?
In order to keep money market rates in control, the Federal Reserve has so far printed about $320 billion since the spike on September 17. "The big picture answer is that the repo market is broken," said James Bianco, founder of Bianco Research in Chicago, in an interview with MarketWatch. "They are essentially medicating the market into submission," he said. "But this is not a long-term solution."
An ad to help with our costs