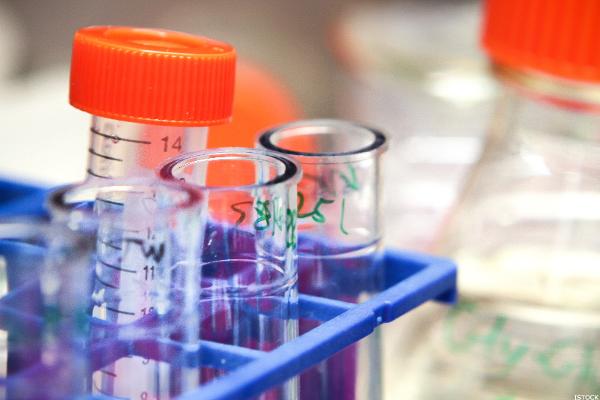 When the FDA approved the first CDK inhibitor, Ibrance, this time last year, a wave of speculation arose as to which company – and in turn, candidate – was next in line for an agency nod. It's been hailed as a revolution in cancer therapy, and has the potential to treat a wide range of cancers, far beyond the current breast cancer indication. Here's a look at some of the CDK inhibitors that could hit markets before the close of the decade.
Click Here For More Market Exclusive Updates & Analysis
First, let's quickly run through the science that underpins the treatment. When a cell reproduces, it goes through four distinct phases. The first of these phases is called Gap 1 (G1), and is initiated and regulated by cyclin-dependent kinases (CDKs). In some cancers, CDKs become mutated, and upregulate the initiation of cell reproduction through uncontrolled initiation of G1. This leads to the rapid cell proliferation that underpins most cancer types. CDK inhibitors bind to the CDK molecules, and stop them from initiating G1 in cancer cells – thereby stopping the cell proliferation.
That aside, what's in trials?
Abemaciclib
Eli Lilly and Company (NYSE:LLY) and Merck & Co. Inc. (NYSE:MRK) are trialing this CDK inhibitor across a range of indications – a clinicaltrials.org search reveals 17 active studies – but the two most advanced are in metastatic breast cancer and non-small cell lung cancer (NSCLC) indications. Both indications are in phase III trials.
The breast cancer trial is comparing abemaciclib to placebo across circa 630 patients in a 2:1 ratio, with a primary endpoint of progression free survival. The drug performed well in a similar (but smaller scale) phase II, and so far looks reasonable well tolerated. Primary completion is slated for February 2017, so the two companies could get an NDA with the FDA by H2 2017, assuming efficacy is demonstrated.
The breast cancer trial is comparing abemaciclib with Tarceva – a current SOC in NSCLC marketed by Astellas Pharma, Inc. (OTCMKTS:ALPMY). It's a 550 patient trial, split right down the middle, with co-primary endpoints of PFS and overall survival. Again, we've got an early 2014 target for primary completion – this time in May.
LEE011
Novartis AG (NYSE:NVS) is trialing its lead CDK inhibitor, LEE011, in a phase III with a metastatic breast cancer indication. The trial kicked off back in December 2013, and is slated for primary completion (and concurrent data collection) in August 2019. It's a placebo comparable, with co-administration of LEE011 and Femara – a hormone based chemo treatment currently marketed by Novartis. This one's a bit unpredictable, as Novartis didn't release any details of its phase II after completion, and reported very little about progress as the trial was ongoing. As such, we don't really have any idea of the safety and efficacy profile of the drug. We know that Novartis thought the phase II results warranted a phase III, however, and the company has also expanded its trials into a range of other indications – so that bodes well. As with the phase II, don't expect any interim analysis from Novartis on this one. We'll have to wait until completion to see how the drug performs. If successful, expect an NDA submission by the end of 2019.
Alvocidib
This one is in late stage development under the watch of Salt Lake City based Tolero Pharmaceuticals – currently a privately held company running for a third round of financing. Unlike the other two candidates on the list, Alvocidib is targeting acute myeloid leukemia (AML) – a blood and bone marrow cancer. The drug picked up orphan designation back in 2014, and has since gone on to complete eight phase IIs in the AML indication, both as a a single administration and in combination with a host of other available treatments – most notably a range BET protein inhibitors that work to induce apoptosis (programmed cell death) in cancerous cells, while Alvocidib goes about halting proliferation.
The eight phase II trials looked promising, with endpoints pointing to strong efficacy (especially in the aforementioned combination) and a phase III is scheduled to kick off this year. AML trials generally run for between 18-24 months from recruitment to primary completion, so we're probably looking at late 2018 before Tolero prints topline. The key thing here will be complete remission rates. SOC chemotherapy runs at up to 85% CR in AML for patients under 60, and circa 55% for patients 60 and above. Alvocidib will have to outperform on these rates if it is to get an FDA nod, while maintaining the safety and tolerability profile of the current SOCs.
An ad to help with our costs