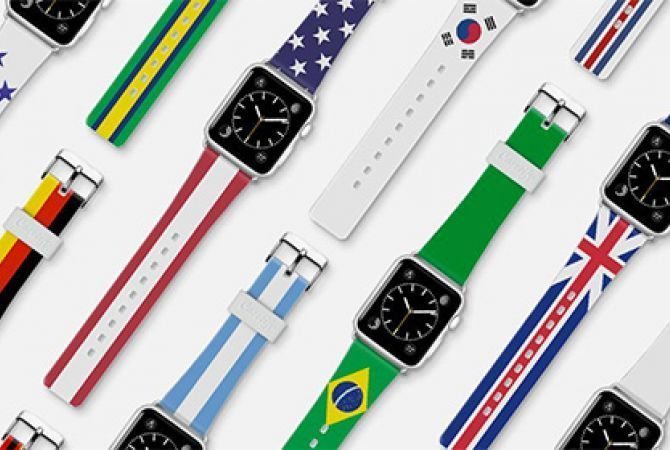 Apple Inc. (NASDAQ:AAPL) is now featuring watch bands with the Olympics theme for its Apple Watch customers. The watch bands depict national flags and are only available in Apple Stores in Rio.
Samsung is the official sponsor of the Rio Olympics but Apple is still trying to capitalize on the opportunities brought by the international event. Apple is selling the Apple Watch bands in its store located about 10 km from the main Olympic park. Some of the people that have already purchased the bands have already showcased them on social media platforms.
The wristbands do not feature the word "Olympics" or the Olympic rings since the company is not an official sponsor of the events. Apple instead chose to feature 14 national team colors for different countries including Brazil, Canada, and the US among others. Jeff Benz of the international dispute-resolution company JAMS stated that the move does not infringe on any rules though it borders on guerrilla marketing or ambush marketing. The Apple Watch bands are retailing at 296 reals which is equivalent to about $92.80. Neither Apple nor Samsung has released any statement regarding the wristbands.
Samsung may not be worried because it has already secured more rights as an official sponsor and Apple's move with the bands does not present any imminent threat. Apple has also presented the bands in a subtle manner that is not disruptive but aims to take advantage of the opportunity to earn some extra profits. The company has also considered those who do not own Apple Watches by including cases for iPhones and iPods. The cases are available in flashy color schemes just like the bands. However, the cases will be available for the iPod Touch 5 and later models and the iPhone 6 and 6S.
Cases for the iPods will be priced at $30 while the cases for the iPhones will cost $40. Their limited nature means they can be resold as collectibles at higher prices for those looking for that kind of opportunity.
An ad to help with our costs